The Softwire series from PJ Haarsma
PJ Haarsma is the author of the popular Softwire series. The series has won many awards and nominations, and the first book was selected by the New York Public library as a prestigious, "Book for the Teen Age". PJ was also the winner of the "ABC New Voices Honoree". PJ is currently working on a 5th book in the series as well as an adult book series for his Spectrum comics.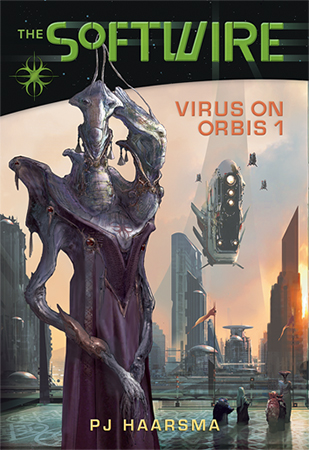 The Softwire: Virus on Orbis 1 – Hardcover (HC)
JT has always known there was something different about him, even before he and two hundred other kids landed on the first ring of Orbis. But once their spaceship lands, he is identified as the first-ever "softwire" — a human with the ability to enter and communicate with computers through his mind — and becomes the focus of intergalactic intrigue. Johnny and the rest of the refugee orphans are put to work in alien factories, and very quickly things go very wrong. When the all-knowing, all-controlling, and technologically "perfect" central computer starts malfunctioning, suspicious eyes turn to JT. Is he the one responsible? This action-packed, fast-paced sci-fi novel will keep you on the edge of your seat.
ISBN-13: 9780763627096/ $16.99, YOUNG ADULT SCIENCE FICTION. AGE RANGE: 10 AND UP
"Skillfully crafted." School Library Journal | Winner ABC News Voices Honoree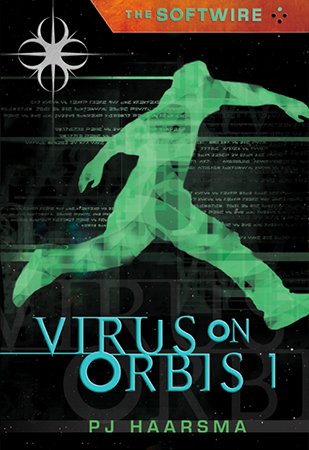 The Softwire: Virus on Orbis 1 – Paperback (PB)
A human boy with an uncanny link to computers finds danger and discovery on the rings of Orbis in this riveting sci-fi adventure. A powerful book for reluctant readers, especially boys.
A New York Public Library "Book for the Teen Age".
South Carolina Junior Book Award Finalist.
New Hampshire Great Stone Face selection.
Cybil Award Finalist.
Hal Clement Excellence in Children's Science Fiction finalist.
ISBN-13: 9780763636388/ $ 7.99, YOUNG ADULT SCIENCE FICTION. AGE RANGE: 10 AND UP
"Exotic aliens, dangerous situations and faced past adventurer… sf fans will happily hang in with JT." Booklist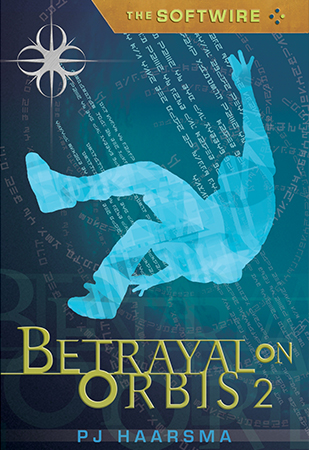 The Softwire: Betrayal on Orbis 2 – HC or PB
On Orbis 2, JT has a new home and a new job, one that pushes his softwire abilities to painful limits. JT is the only one who can communicate with the Samirans, large aquatic aliens who have cooled the crystals on Orbis for nearly two thousand rotations. But as the Samirans' work rule ostensibly comes to a close, they have grown dangerously agitated, and JT must find out why. What he learns is that the prosperity of Orbis is built on a brutal system of enforced labor — and that everyone seems to have something to hide. Can JT appease the Samirans before their threat is realized? And if he doesn't, will his friends survive? In this second episode of THE SOFTWIRE, PJ Haarsma takes readers on another lightning-paced, cyber-fueled ride through the amazing universe he introduced in THE SOFTWIRE: VIRUS ON ORBIS 1.
YOUNG ADULT SCIENCE FICTION | ISBN-13: 9780763627102/ $16.99 | PB ISBN 13: 978-0763642693
"A strong science fiction read for the teen set." Booklist | Yalsa Finalist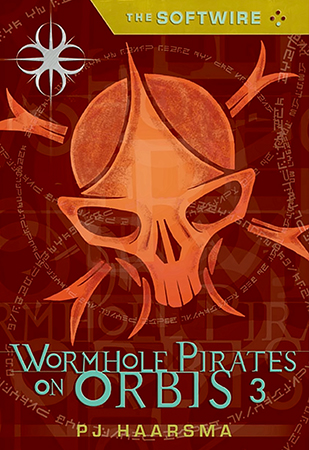 The Softwire: Wormhole Pirates on Orbis 3 – HC or PB
After two rotations working as knudniks on the Rings of Orbis, JT and his friends are anxious about what awaits them on Orbis 3. But before their shuttle even lands, they are attacked by a ruthless band of wormhole pirates. When one of them delivers a cryptic message to JT—Tell him we put on a good show all right, Softwire—JT can only wonder: who does the pirate mean?
On Orbis 3, the kids learn that they don't have to work this rotation, but they will have to go to school—along with a bunch of bullying and resentful Citizens who would like nothing more than to see JT and his friends suffer. But JT senses something even more sinister in the air. Could that alien he keeps spotting, the one with the skull and crossbones on his arm, be a wormhole pirate? And why does someone seem to be luring JT into a deadly and competitive game where the stakes are higher than JT can even imagine?
YOUNG ADULT SCIENCE FICTION | ISBN-13: 978-0-7636-2711-9/ $16.99 | PB ISBN-13: 978-0763647773/$8.99
"A perfect book!" Stationkstm | "Simply Genius" Teen Book Blog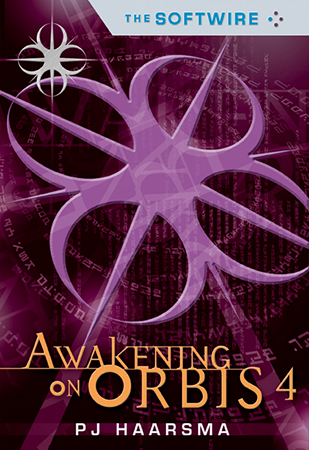 The Softwire: Awakening on Orbis 4 – Hardcover
All JT ever wanted was a normal life on the Rings of Orbis with his sister Ketheria and his friends Max and Theodore. But the three rotations JT has spent on the Rings have been anything but normal. Now, as the 4th and final rotation of their work rule begins, JT knows that his sister is the Scion—a long-awaited being who will bring understanding and healing to the universe—and that JT himself is expected to be the Scion's protector and guardian, for which he is supposed to start training to become a Space Jumper, a mercenary soldier who can jump through time and space. But JT isn't sure he wants to take on the role that the Keepers and the Trading Council have created for him. After three rotations playing by their rules, shouldn't he have a say in his own destiny?
But as the pieces of the puzzle of his origins begin to come together, JT realizes his defiance may cost him everything. And as war on the Rings of Orbis becomes inevitable, even his Space Jumper skills might not be enough to help him protect his sister and his friends.
YOUNG ADULT SCIENCE FICTION | ISBN-13: 978-0763627126/ $16.99
"PJ Haarsma's thrilling conclusion to The Softwire series is a fast paced, action packed races across Orbis 4. The Best inthe series." Tween Tribune